Kisabeth Historical Review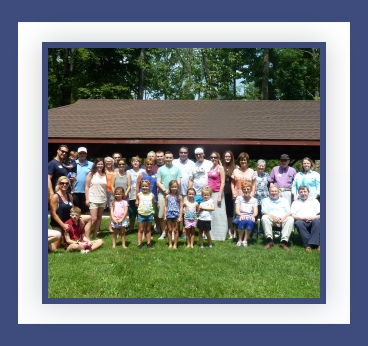 Saturday July 25, 2015 was a beautiful day. The banners and displays were up by 11 AM and folks start arriving shortly after. Gordon & Jerry greeted the arrivals as cousin Steve and Robert Kisabeth and family arrived from Ohio and Tennessee By noon we had over 36 family members gather at the Beech shelter. .
The annual afternoon luncheon was started around 1PM. Some of the homemade delicacies included;, pasta salads, potato salad, rice salad, meatballs, German sausages, brownies, peach cobbler pie, lemon meringue pie, cookies, various cheeses, salami, and a few veggie trays.
Our annual reunion group photo was arranged and photographed by Gordon Kisabeth using three coolers as tripods.
The egg toss contest was a big hit..

26 Annual Family Reunion on July 23 2016
Date: Saturday July 23 2016
Time: 11am until dusk
Place: Meadowbrook Park, Bascom, Ohio
Bascom, Ohio is centrally located for most of us living in the Midwest, between the cities of Fostoria & Tiffin in north central Ohio.
Küschwert to Kisabeth Family Reunions
Home
Old Reunions
View photo of past reunions
Meadowbrook Park
The reunion is opened to all the relative, friend and interested people interested in the history of the Kisseberth descendants and family's. There are many differed spelling of the original name. The earliest spelling was Küschwert.. Spelling change to Kisseberth, Kissenberth, Kisaberth, Kispert, Kisabeth. There were also D'haene , Birchall and more. All are invited to find out some of the history we discovered. Our motto is " you are a stranger only once."
If you live in the area, bring a dish to pass, if from out of the area, just bring some beverages and snack food. We always have a lot of food to pass.